How to create a mood at home with candles?
2020-12-08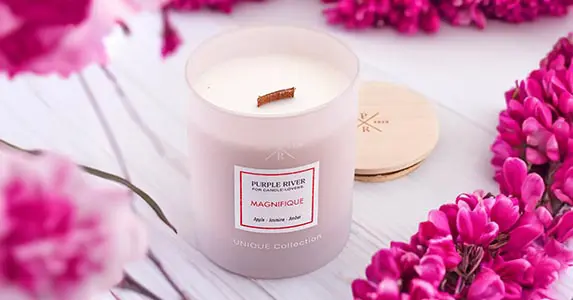 Many of us still think that candles are best for the bedroom for a romantic evening or in the bathroom, giving you calm at home SPA. However, candles, especially scented candles, are a great way to create a lovely mood in any room. Candles can provide coziness and an attractive fragrance for any time. Learn how to create a mood at home with candles for any occasion.
How to create a mood at home with candles? Use the power of color!
If your room has cool tones and is decorated using neutral tones, adding a little new color can completely change the atmosphere. Candles come in all colors of the rainbow, so you are sure to find a refreshing color that will add uniqueness to your interior. You can change the colors according to the occasion, for example classic gold and red for Christmas and soft pastel shades for Spring. Thanks to the fact that candles come in so many unique shapes, patterns and colors, your living room or hall will become much more interesting by adding the right candle colors.
You will get an intriguing effect by adding an expressive, strong color of candles to a neutral room. For example, a red scented candle with a smell of cinnamon in your gray dining room. Candles add coziness and home warmth to any interior, and attract the attention of everyone visiting your home.
Use the scents of candles to create a magical mood in the interior
Did you know that one of the first things people notice when they enter your home is its smell? Before they can look around, they already feel something. It is said that the first impressions can only be made once, and this is the case with scent sensations. So make sure your home smells as good as you do. Thanks to scented candles, you can easily and quickly provide your environment with a non-overwhelming and pleasant scent without the feeling of exaggeration.
Some of us are not yet aware of the importance of smell and its impact on our well-being. Sometimes underestimated, however, the smell works and can even affect your energy levels. For each type of interior, you can choose a candle scent to achieve the desired effect. For example, it would be a great idea to light a fruity or gourmand scented candle in the kitchen. Or you can go a step further and match the fragrance with what you are going to cook, what the season is it and so on. Or maybe there are fragrances that mean a lot to you and you would like to share their beauty and richness with your loved ones?
Don't be afraid to experiment with candles
How to create a mood at home with candles? Don't be afraid to experiment with different styles, colors, patterns and scents of candles to find the one that will best suit your interior. If you choose the right color and fragrance correctly, your apartment or house will become a magical refuge of pleasure and relaxation. For example, you can choose a lavender or vanilla candle for relaxing in the bathtub, and a scented apple pie in the kitchen. There are literally thousands of color and fragrance combinations at your disposal. Have fun with the scent of Candle World!
Recommended


34,60 €

incl. VAT
Lowest price in 30 days before discount
17,30 €

incl. VAT