Perse Bloom by Voluspa - do you already know the floral bestseller?
2017-04-14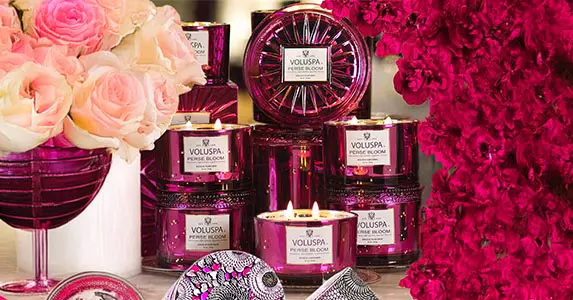 The cult brand Voluspa never ceases to surprise! The candles are unique - made of natural coconut wax with beautiful, tasteful aromas, they tempt with beautiful packaging in the form of elegant boxes.
The Vermeil collection brings to mind the beauty of silver, which, coated with pure gold, reaches its historical roots in the most beautiful jewelry made of precious metals. The Vermeil collection by Voluspa, however, takes the senses a step further, spreading a contemporary, pastel palette of colors on mirror surfaces, thanks to which each product surprises with a luxurious, golden interior. The main element of the design of the products in the collection is the star-shaped ornament that decorates both the packaging and the glass surfaces designed by Voluspa, inspired by historic embossed glass from the 1920s. The collection includes phthalate-free fragrance compositions and a recipe of coconut wax patented by Voluspa. Wicks made of pure cotton guarantee that the candles burn long and stably, without emitting smoke.
The new fragrance in this series is Perse Bloom - ruby peony, night blooming jasmine and Egyptian mimosa... a unique floral combination!
And this color ... every lady will appreciate the deep shade of fuchsia!