Purple River vegan soy candles now available at Candle World!
2021-09-01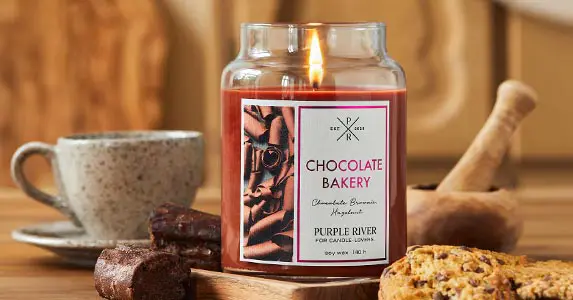 Purple River, a natural brand of soy candles, offers exquisite and authentic scents housed in the best glass jars for exceptional durability. Provide yourself with the most pleasant experiences every day. The mission of the Purple River brand is to reproduce scents as faithfully as possible, because no teacher is better than nature itself. Purple River vegan soy candles now available at Candle World!
We love fragrances that deeply touch the depths of our soul and passionately create holistic, unique and pure experiences. The inspiration for Purple River is noble wood, juicy fruits, captivating scents of flowers, fresh green herbs and expressive spices, which have been captured in high-quality products.
Purple River soy scented candles are the best alternative to Yankee Candle
Purple River is based on inspiration from the entire world of fragrances while using carefully selected, best ingredients. We arouse emotions through scent and stop time for a moment... Fragrance accords carry the universality of nature in their hearts. The high content of fragrant oil from carefully selected essential oils combined with natural cotton wicks ensures a unique and distinct scent experience.
Take a scent journey to distant countries or local places, because each scent of Purple River vegan candles tells its own story full of emotions and memories. The aromas of Purple River scented candles will transform your four walls into a private wellness oasis and create a unique, exquisite scent experience. A fresh breeze by the sea, a relaxing walk in the forest, Asian wellness temples or a French chocolate factory... Whatever you choose, Purple River will seduce your senses and allow you to enjoy sunny lavender fields, fresh mountain scenery or homemade cakes in the comfort of your own living room or bedroom.
Purple River vegan soy candles have authentic scents
Purple River soy vegan scented candles are created based on the idea of sustainable development and we only use natural and high-quality additives. We use pure soy wax and the highest quality cotton wicks in our scented candles. Our image for sustainable coexistence commits us to the highest quality and unlimited respect for nature.
Purple River soy scented candles combine high-quality natural ingredients
All premium Purple River candles are hand-poured and made of 100% natural soy wax. No animal ingredients are used in the candles and only vegan and natural ingredients are used. Actions for sustainable coexistence commit Purple River to the highest quality and unlimited respect for nature.
How long do Purple River vegan soy candles in glass burn?
Extensive testing procedures ensure that Purple River scented candles burn safely, evenly and cleanly. Thanks to the burning time of over 140 hours, long-lasting fragrance experiences are ensured. Our products are thoroughly tested in the laboratory and enjoy the highest safety standards. High-quality and pure ingredients ensure holistic, unadulterated and natural moments especially for you!
Excellent opinions about Purple River candles
If you are looking for the highest quality vegan candles that do not contain any animal ingredients, the Purple River brand has products created for you. The highest quality, authentic fragrances, only 100% plant soy wax and lead-free cotton wicks are a guarantee of maintaining the idea of sustainable development. The glass containers in which Purple River soy candles are poured can be reused or recycled after cleaning in accordance with local guidelines.
All Purple River vegan candle scents are truly intense, expressive and strong, so they will provide you with the best scent experience even in a large space. You can choose from dozens of candle scents tailored to your mood and season - from light floral notes, through herbal and fruit chords, to sweet, dominant, intense and woody scents. Which Purple River candle scent will you choose for tonight?