How to use scented wax melts? User guide
2022-03-01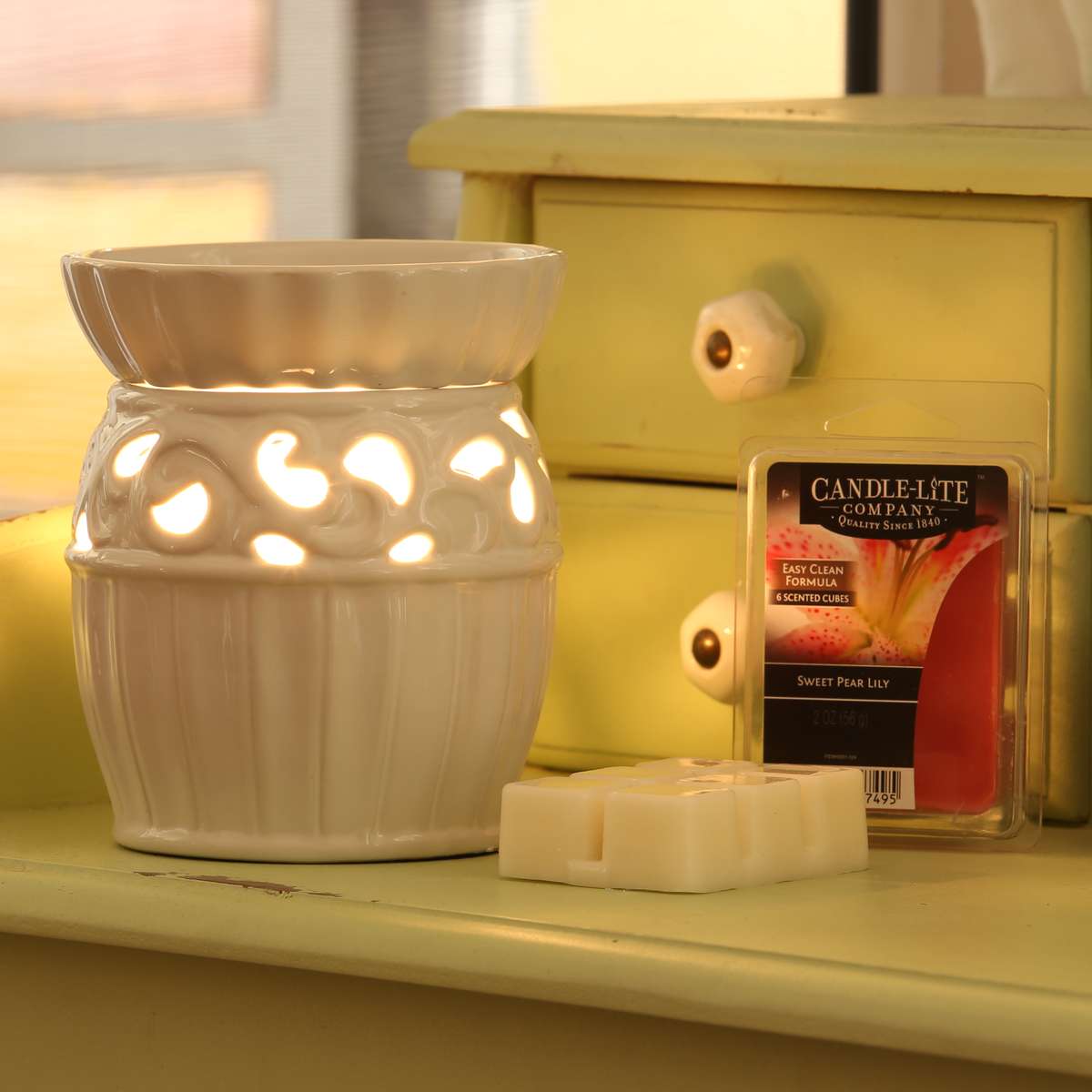 What is a scented wax melt?
Fragrance wax is a vegetable or mineral wax with the addition of aromatic oils. We put this wax in an aromatherapy fireplace and after dissolving it, the wax begins to release a beautiful fragrance in the room. After a certain period of time, the wax loses its smell - then it's time to replace the wax with a new one. You can find fragrance waxes here. Interesting and very easy to use are waxes made of pure palm wax in the form of scented sand - you can see them here.
What are the types of scented melts and which one should I choose?
Fragrance waxes come in different sizes and are made of a variety of raw materials. We can find waxes made of paraffin wax, such as Yankee Candle and Kringle Candle waxes, and waxes made of natural plant wax, such as soy wax. There are also waxes with the addition of pure essential oils, such as the fragrance waxes from the Essential Elements collection by Candle-lite (click here!).
Fragrance waxes made of paraffin wax are characterized by a slower dissolution in the fireplace than aromatic waxes made of vegetable waxes. Fragrance waxes from vegetable waxes dissolve faster and do not crumble, like paraffin waxes. The fragrance's durability depends on the brand and ranges from several to several dozen hours for one piece. We can dose the intensity of the fragrance ourselves by simply placing more wax in the aroma fireplace (some manufacturers give the recommended amount of wax, e.g. one bar or 1/3 of the package). If you are not sure what amount of fragrance wax to put in the fireplace for the start, our advisers in stationary stores and advisers in the online store will be happy to help you.
If our collection of fragrance waxes begins to expand, we recommend choosing waxes in practical, closed packaging (plastic or glass), as they are easier and more convenient to store.
How to use scented wax melts?
We use scented waxes very simply - we put the selected amount of scented wax in an aroma fireplace (a wide selection of aroma wax fireplaces can be found here), place an odorless heater at the bottom of the fireplace and light it. The wax dissolves under the influence of the heat from the heater and releases the fragrance. You can choose from warmers made of paraffin wax or soy 100% (you can find it here). After a while, the fragrance wax will begin to release a beautiful fragrance. How much wax should I put in the fireplace? It all depends on the brand and the expected fragrance intensity. We advise you to start with a smaller amount in order not to overdo it. Often you ask, how long should you burn fragrance wax at one time? In fact, you can smoke it for as long as you like, until the smell is exhausted. Typically, most people smoke fragrance waxes for about 4 hours at a time, because a good-quality tealight is enough. If such a one-time burning time is too short for you, try out tea lights with an extended burning time of up to 8 hours (you can find them here).
If the wax in the fireplace still smells, but you know you won't be using it for a while, it's a good idea to wrap the fireplace bowl in foil and put it in a dark, cool place. This will reduce the diffusion of the fragrance and the wax will last longer.
How do I remove scented wax melt from wax burner?
There are several proven ways to remove fragrance wax from a fireplace. The first and most popular is to turn off the heater and wait a moment for the wax to start to solidify in the fireplace. Such warm, slightly congealed wax is removed by hand or with a paper towel, and any wax residues are washed off. The aroma fireplace should also be cleaned every time the smell changes.
If you missed the moment to remove the wax and had time to solidify, you can light the heater for a moment and wait for the wax to melt slightly and then remove it or put the fireplace for a moment under very warm tap water. You can also put a fireplace with solidified wax in the freezer, the wax will be easier to remove. Attention! Not every wax fireplace is suitable for placing in a freezer, so try this method at your own risk.
Can I use random oil burner for scented wax melts?
It depends. Due to the fact that most fragrance waxes are colored, if your fireplace is, for example, clay and there is no protective layer against moisture absorption, the fireplace may discolor. When choosing a wax fireplace, we should be guided by both the aesthetics of workmanship and the colors matched to our preferences, but also answer a few questions. Do we care about the ease of cleaning the fireplace? Then it is worth choosing a fireplace with a removable bowl. Do we have a larger room or do we like high-intensity scents? Then a fireplace with a larger bowl will work, because we can simply put more wax in it at once. Do we want to easily ignite the heater? It's good to look for a model with an overlay top.
Which tea lights / tealights to choose for a wax burner?
Heaters for a fireplace for aromatic waxes should be odorless. We have a choice of paraffin heaters or vegetable wax heaters, e.g. soy wax. Remember to choose good quality tea lights and always trim the wick to a length of about 5 mm before each lighting.