Masculine scented candles from Manly Indulgence Colonial Candle collection
2020-11-03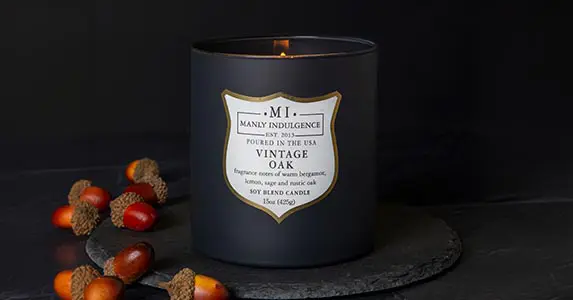 Both the Colonial Candle men's collections of the Manly Indulgence series - The Classic and The Signature - have prices for every man and a unique, rough and intense mood as an option. Sharpen your senses in the comfort of your home, office or wherever you want to feel like in a men's apartment. Classic and Signature collections can represent your personal style and preferences. And we know that you can find a candle that suits you and your home.
Masculine scented candles by Colonial Candle from Manly Indulgence Collection
The Signature collection captures the refined elegance of the authentic man who adjusts power with authority. The Signature Collection scented candles for men with wooden wicks and matching wooden lids lend the collection's rugged expressiveness. Move to the snow-drenched mountains, a clear idea to relax and provide yourself a peaceful escape from the surrounding world. You deserve the best.
If you like elegant and value the right quality of workmanship, you will appreciate the epic Classic collection. Black, frosted glass and black lids in these candles will fit not only your male space in the living room or office, but will also crown the elegance in the bedroom, especially when you want to surprise your chosen one. The blend of soy wax will burn the candle evenly and the scent will quickly fill the room. The lead-free cotton wick will give a stable, soft light that she will appreciate in the evening.
Simple and effective - perfect fragrance in men's apartment
Every day you achieve more and more and you value good quality items. Good whiskey, great electronic equipment and a reliable car are the basis for the efficient operation of every man. And when you come home, you want equally reliable interior accessories. That is why the Manly Indulgence collection was created for you. You light a candle and she makes the mood herself. Simple and effective.