Yankee Candle scented candles for fall 2021
2021-04-15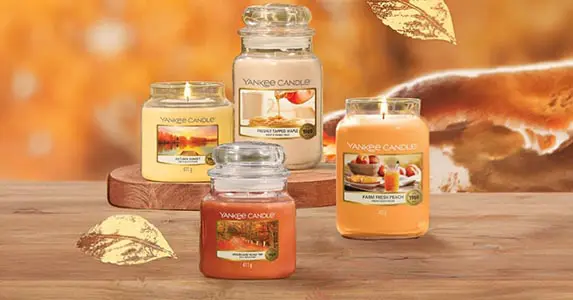 We already know the scents of Yankee Candle candles in jars for fall 2021. The special Woodland Road Trip Collection includes Yankee scented candles in large and medium jars in four pleasant autumn scents. If you are looking for the best alternative to Yankee Candle candles, we encourage you to try our bestsellers, Purple River soy candles.
Yankee Candle scented candles for fall 2021
Here are the scented candles in new scents from Yankee Candle that will appear in the fall 2021 offer:
Yankee Candle Autumn Sunset - discover the perfect place to experience the last moments of a wonderful autumn sunset with notes of cedar, sandalwood and a hint of sunny citrus aromas.
Yankee Candle Fresh Farm Peach - feel the fresh notes of peach, apricot and vanilla combining together, encouraging you to try a local delicacy during a forest trip.
Yankee Candle Woodland Road Trip scented candle - Your journey through the autumn landscape with tempting scents of jasmine, fir, vetiver and warm notes of suede. Smell brings us closer together as we travel together.
Yankee Candle Freshly Tapped Maple - A large stack of pancakes containing the aromas of sweet orange peel combine with notes of maple syrup and cinnamon - the perfect way to start the day and explore the autumn forests.
Returning classic Yankee Candle scented candles for fall 2021:
Yankee Candle Autumn Leaves
Yankee Candle Almond Cookie
Returning classics from Yankee Candle's Fall 2021 Elevation candle collection:
Yankee Candle Blooming Cotton Flower
Yankee Candle Amber Acorn