How to choose candles for each Zodiac Signs? Ultimate guide
2022-12-01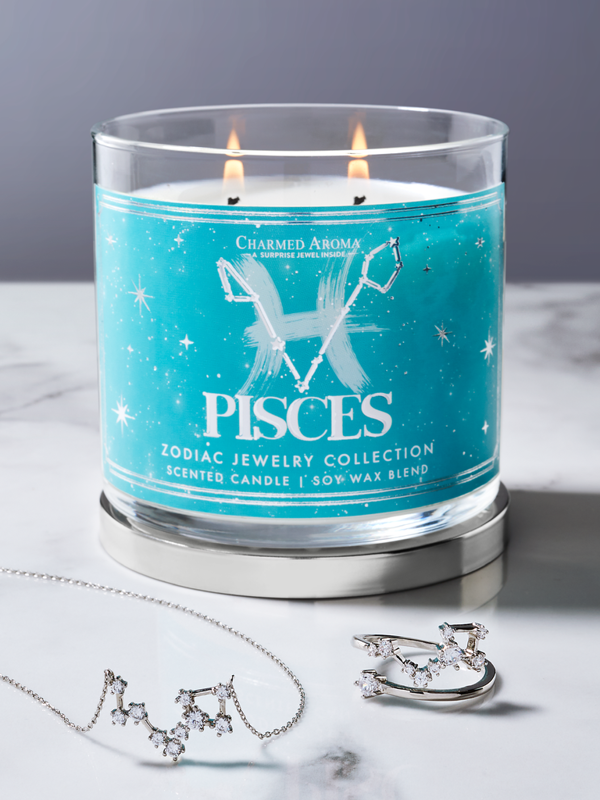 According to astrology, not all scents will appeal to every zodiac sign. That is why it is good to choose a scented candle according to the date of birth. To create the impression of comfort and stimulate creativity, it is good to fill our apartment with various fragrances. We have a guide for you to find the perfect gift candles for the Zodiac Signs.
Did you know that smells are very strongly associated with our memories? That's why we love scented candles so much that evoke our favorite past events and allow us to create beautiful new memories. The perfect gift idea will therefore be a candle for the Zodiac Signs, for example a candle with jewelry with a theme matching the Zodiac Sign.
How to choose candles for each Zodiac Sign?
Astrology is, of course, not only the most famous solar sign, but also the lunar sign or the ascendant, which also have a huge impact on the cosmogram and birth horoscope of the recipient. However, the easiest way for us when looking for a candle for the signs of the Zodiac for a gift is to simply follow the solar sign that almost everyone knows. The solar sign is determined, in simple terms, by the month in which we were born. If you know the date of birth of the person for whom you want to buy a candle as a gift, you will easily find their Zodiac Sign in the list below.
Here are the dates of birth of each Zodiac Sign (according to tropical astrology):
Aries March 21 - April 19
Taurus 20.04 - 20.05
Gemini May 21 - June 20
Cancer June 21 - July 22
Leo 23.07 - 22.08
Virgo August 23 - September 22
Libra 23.09 - 22.10
Scorpio October 23 - November 21
Sagittarius 22.11 - 21.12
Capricorn December 22 - January 19
Aquarius January 20 - February 18
Pisces February 19 - March 20
What scented candles to choose for Aries?
People born under the sign of Aries (March 21 - April 19) should look for fragrances that emphasize their fiery and decisive character. You can choose from spicy candles, such as those with a hint of cinnamon, pepper or ginger. Woody notes such as cedar, sandalwood and juniper are also great. What fragrances should an Aries person avoid? Notes of fresh rain or juicy melon can lower their energy levels.
The best scents for Aries: spices, wood
Worst smells for Aries: fresh rain, melon
Jakie świece zapachowe wybrać dla Byka?
Osoby urodzone pod znakiem Byka (20.04 - 22.05) twardo stąpają po ziemi, więc docenią zapachy związane z naturą i ziemią. Dobrym wyborem będą nuty kwiatowe i ziołowe, zapach świeżo skoszonej trawy. Delikatne i orzeźwiające nuty kwiatowe, takie jak lekki zapach kwiatu pomarańczy, rozpieszczą zmysły każdego Byka. Byki mogą nie lubić żywicznych zapachów, takich jak kadzidło, ponieważ mogą czuć się nimi przytłoczone.
Najlepsze zapachy dla Byka: naturalne, ziołowe, kwiatowe
Najgorsze zapachy dla Byka: żywiczne, kadzidło
Najlepsze świece dla Bliźniąt
Osoby urodzone pod znakiem Bliźniąt (23 maja - 21 czerwca) potrzebują ukojenia dla swojej żywiołowej natury. Dobrym pomysłem na to, by Bliźnięta zainteresowały się jakimś zapachem na dłużej, jest wybór nieoczywistych i wielowymiarowych zapachów. Egzotyczne kwiaty, takie jak Ylang Ylang czy orchidea, zachwycą Twoje zmysły. Dobrze sprawdzą się również ziołowe, ale świeże akordy lawendy lub mięty. Świetnym wyborem będzie również odrobina zapachu drewna. Podobnie jak Byk, Bliźnięta powinny unikać bardzo intensywnych zapachów kadzideł, takich jak mirra.
Najlepsze zapachy dla Bliźniąt: Ylang Ylang, orchidea, lawenda, mięta
Najgorsze zapachy dla Bliźniąt: mirra, gorzkie akordy
Świece na prezent dla Raka
Osoby urodzone pod znakiem Raka (22.06 - 22.07) często uwielbiają pielęgnację i self care, więc słodkie nuty takie jak kokos czy aromaty pieczonego ciasta będą doskonałym wyborem. Świetnie sprawdzą się również nuty świeżej bawełny, które kojarzą się z zadbanym, czystym domem. Nieco egzotyczne nuty, takie jak kamfora czy eukaliptus, również dodadzą lekkości każdemu Rakowi. Unikaj ciężkich i przytłaczających zapachów, takich jak kadzidło i skóra. 
Najlepsze zapachy dla Raka: kokos, pieczone ciasto, świeże pranie
Najgorsze zapachy dla raka: skóra, kadzidło, ciężkie
Świece zapachowe Znak Zodiaku Lew
Osoby urodzone pod znakiem Lwa (23.07 - 23.08) są odważne i pełne życia, dlatego chętnie wybierają rozświetlające zapachy, takie jak nuty mandarynki, czerwonej pomarańczy, cytryny czy kopalu. Lubią mieszać je z akordami kadzidła lub drzewa sandałowego. Wskazane jest unikanie chłodzących aromatów, takich jak mięta, cyprys i konopie, ponieważ mogą one ugasić wewnętrzny ogień Lwa.
Najlepsze zapachy dla Lwa: cytrusy, mandarynka, drzewo sandałowe
Najgorsze zapachy dla Lwa: chłodny, miętowy, cyprysowy, konopny
Idealne świece dla Panny
Osoby urodzone pod znakiem Panny (24.08 - 22.09) mają wizję wygodnego i przytulnego domu, w którym będą mogły się zrelaksować i odprężyć. Dlatego dobrym pomysłem są kojące i uspokajające zapachy. Wypróbuj koniecznie nuty orzeźwiającej wetywerii, soli morskiej i kokosa. Świetnie sprawdzą się również akordy cytrusowe, takie jak trawa cytrynowa czy kwiat pomarańczy. Panny powinny unikać zapachu szałwii, który jest zbyt agresywny.
Najlepsze zapachy dla Panny: kokos, wetyweria, cytrusy
Najgorsze zapachy dla Panny: szałwia, tymianek
Najlepsze świeczki dla Znaku Zodiaku Waga
Osoby urodzone pod znakiem Wagi (23.09 - 22.10) cenią równowagę we wszystkich dziedzinach życia, dlatego docenią zapachy takie jak kwiat pomarańczy, które pomagają zapanować nad napięciem i stresem. Dobrym wyborem będzie połączenie nut egzotycznych z kwiatowymi, na przykład Ylang Ylang z drewnem czy róża z szafranem. Zapach, którego ludzie spod znaku Wagi powinni unikać, to mocne piżmo, które może sprawić, że poczujesz się przytłoczony.
Najlepsze zapachy dla Wagi: kwiaty, róża, drzewo sandałowe
Najgorszy zapach dla Wagi: mocne piżmo
Jakie świece dla Skorpiona?
Osoby urodzone pod znakiem Skorpiona (23.10 - 21.11), ze względu na swą tajemniczą naturę, doskonale odnajdą się w otoczeniu mistycznych nut kadzidła, mirry czy drzewa sandałowego. Aromatyczny i lekko pikantny kardamon będzie również świetną nutą dla Skorpiona. Generalnie należy unikać dominujących nut kwiatowych, ponieważ mogą powodować rozdrażnienie.
Najlepsze zapachy dla Skorpiona: drzewo sandałowe, kadzidło, mirra
Najgorsze zapachy dla Skorpiona: konwalia, białe kwiaty
Najlepsze świece zapachowe dla Znaku Zodiaku Strzelec
Osoby urodzone pod znakiem Strzelca (22.11 - 21.12) wydają się twardo stąpać po ziemi i jednocześnie odrobinę bujać w obłokach. Uwielbiają podróżować i poznawać świat. Świetnym pomysłem na świecę zapachową dla Strzelca będą nuty nag champa, szafranu lub drzewa sandałowego. Strzelec powinien unikać delikatnych nut kwiatowych, podobnie jak osoby spod znaku Skorpiona.
Najlepsze zapachy dla Strzelca: drzewo sandałowe, nag champa, szafran
Najgorsze zapachy dla Strzelca: róża, lilia
Świeczki dla Koziorożca
Osoby urodzone pod znakiem Koziorożca (22.12 - 19.01) są z natury bardzo odpowiedzialne i często biorą na siebie zbyt wiele. Doskonale sprawdzają się poprawiające nastrój zapachy w stylu Zen, takie jak kojące nuty rumianku, goździków, a nawet rozmarynu. Orzeźwiające nuty kwiatu pomarańczy lub ziół, takich jak wetyweria, również pomogą zmniejszyć napięcie u Koziorożca. Zapachy, których lepiej unikać? Wszystkie nuty wody, oceanu i świeżego deszczu.
Najlepsze zapachy dla Koziorożca: rumianek, kwiat pomarańczy, rozmaryn
Najgorsze zapachy dla Koziorożca: wodny, oceaniczny, świeży deszcz
Idealna świeca zapachowa dla Wodnika
Osoby urodzone pod znakiem Wodnika (20.01 - 18.02) są odkrywcami i potrafią wybiegać daleko w przyszłość. Zmysłowe zapachy pomogą obudzić u Wodnika intuicję, która pomoże mu podejmować najlepsze decyzje. Świetnie sprawdzą się nuty wanilii czy egzotycznego drzewa sandałowego, a także kwiatów takich jak fiołek. Zaleca się unikanie pikantnych nut, takich jak imbir czy cynamon, ponieważ mogą powodować nadmierne pobudzenie.
Najlepsze zapachy dla Wodnika: wanilia, drzewo sandałowe, fiołek, konopie
Najgorsze zapachy dla Wodnika: cynamon, imbir, tytoń
Świeczki zapachowe dla Ryb
Ludzie urodzeni pod znakiem Ryb (19.02-19.03) z natury lubią pomagać innym, ale nadmierna chęć uszczęśliwiania całego świata może ich przytłaczać. Dobre zapachy dla każdej Ryby to nuty, które naturalnie kojarzą się z wodą, morzem. Dobrze sprawdzą się również słodkie i egzotyczne nuty, takie jak kokos czy wanilia, które koją i uspokajają zmysły tego eterycznego Znaku Zodiaku. Zodiakalne Ryby powinny unikać świec z nutą kwiatu pomarańczy.
Najlepsze zapachy dla Ryb: wanilia, kokos, morski, trawa cytrynowa
Najgorsze zapachy dla Ryb: kwiat pomarańczy, nerola